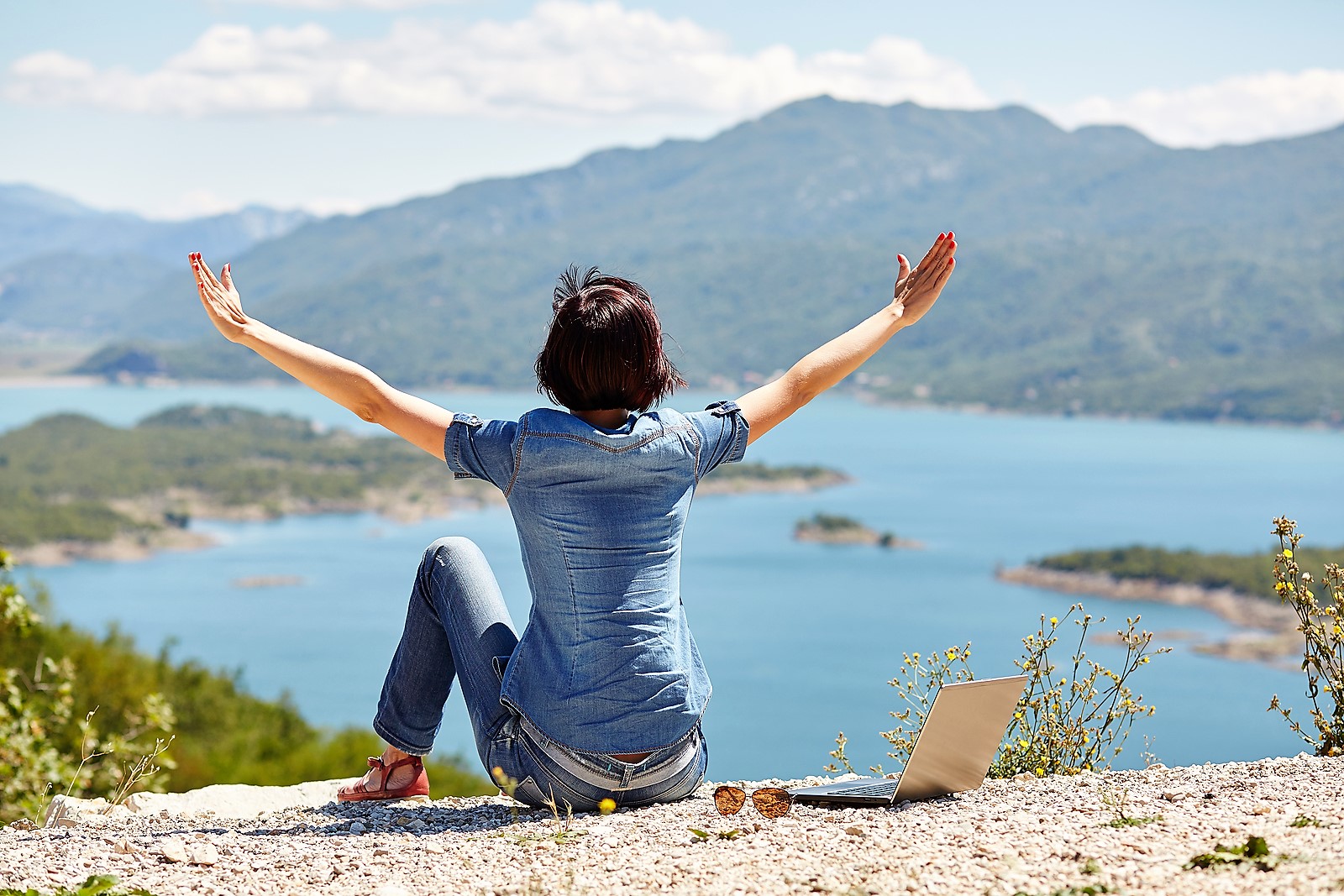 If you are looking for work and don't find the idea of being stuck in an office 40 hours a week all summer appealing, you are in luck.   The gig economy workforce is growing, giving workers and employers across the globe plenty of flexible options.   The "gig economy" refers to workers in a variety of industries that are choosing to take multiple freelance or contract jobs, as opposed to a full-time position.  Many workers prefer the flexibility and diversity of work they get from gig economy jobs. In many instances, they also find the pay is equal to or better than what they would receive in a full-time position in the same industry.
A survey from human resource consulting firm Randstad found that 50% of workforce will be made up of gig economy workers by 2019.  68% of the employers surveyed also expect to offer only gig economy jobs in the next 8 years.  If you want to enjoy the benefits of gainful employment but don't want work getting in the way of your summer adventures, gig economy jobs may the answer.  Our infographic below has more statistics on the gig economy: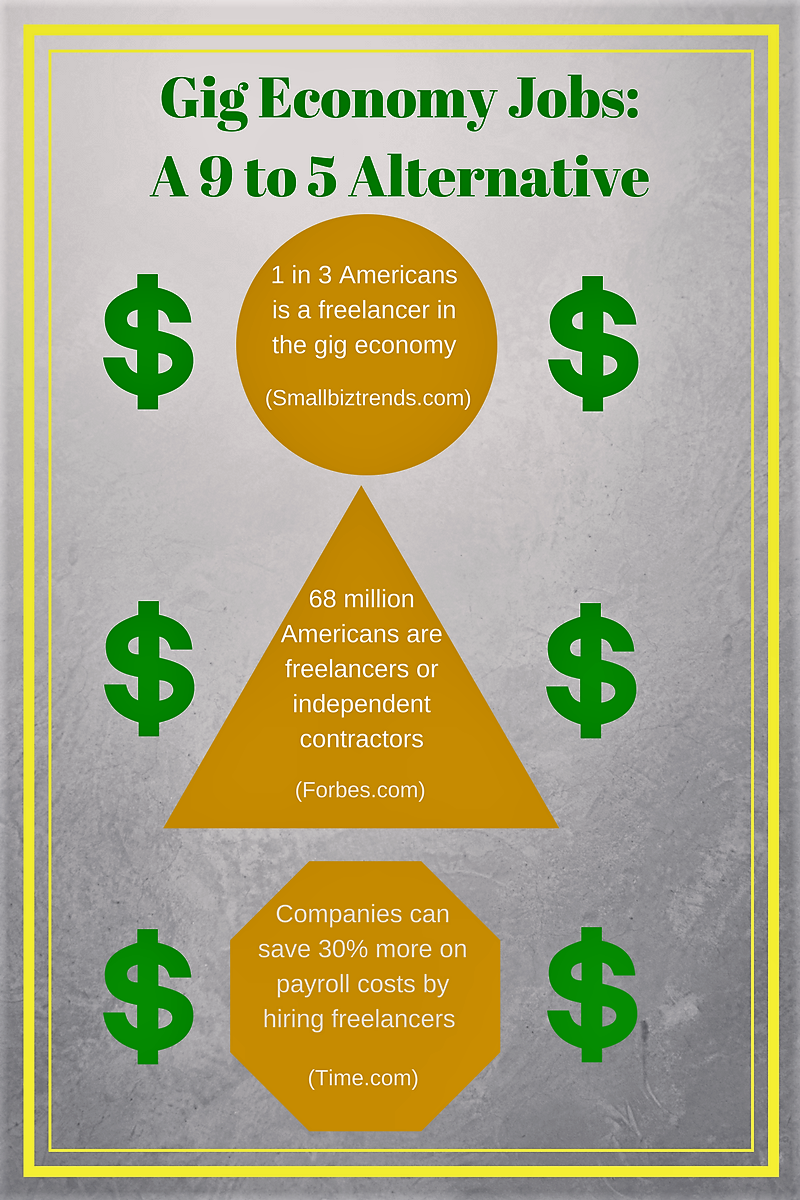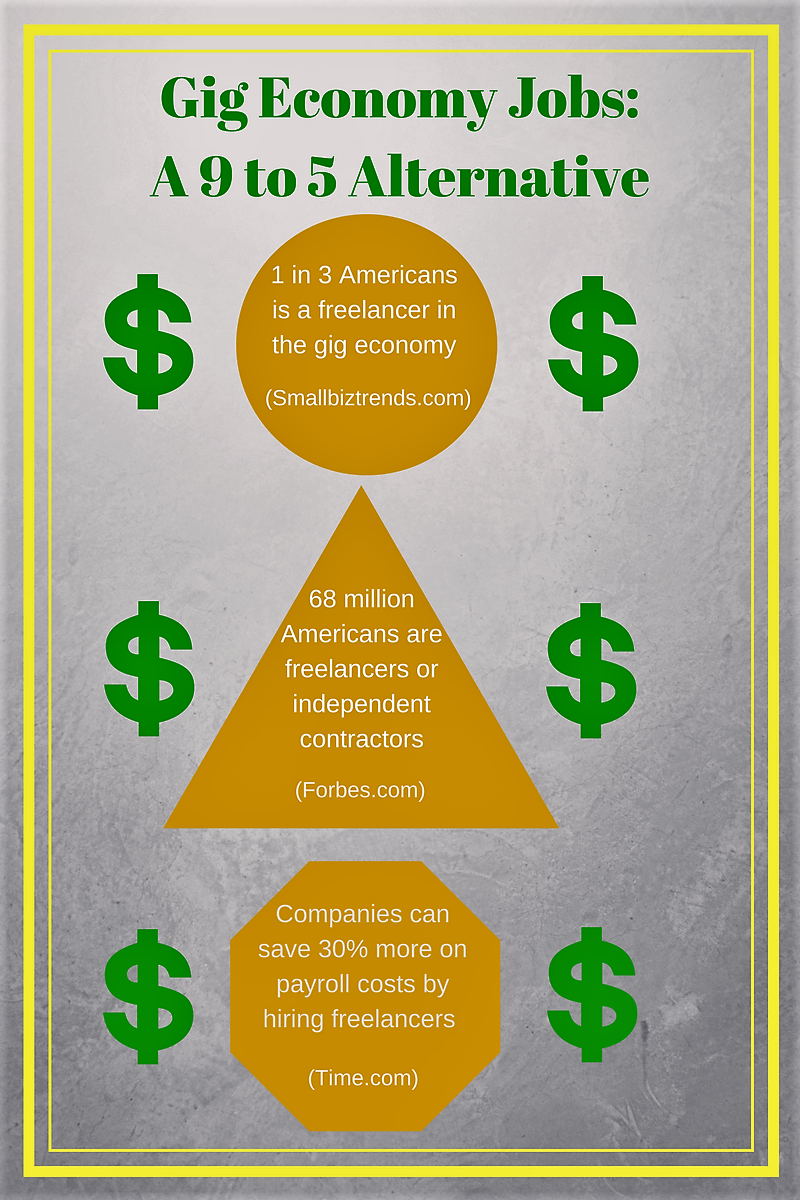 Rake in the Dough Sharing a Ride or Your Home
You are probably familiar with the ridesharing apps such as Uber and Lyft that allow people to make money driving passengers around in their own car and in the time slots they choose.  Typically, ridesharing drivers can make anywhere between $10 to $30 an hour, depending on the location and time in which they are driving.  Another gig economy app that is growing in popularity is Airbnb, which allows you to rent out your home, or part of your home, to travelers.  If you are out of work, or want some extra cash this summer, these gig economy jobs can allow you to work flexibly without having to gain any new skills.
Industries Jumping on the Gig Economy Bandwagon
There are also certain industries professionals are already working in that are growing as part of the gig economy.  One is information technology.  If you are a computer programmer or web developer, there are plenty of freelance and contract jobs out there.  Many of them allow you to work from home or wherever you choose to travel this summer.  Contract computer programmers can make anywhere from $30 an hour to a whopping $400 an hour.
Those with a bachelor's degree in English may find themselves more envied these days than in years past.  Writers are another category of professionals that can easily find gig economy jobs.   The average hourly pay for freelance writer is $30 an hour.  Tutoring is another freelance option for those who excel at any subject, whether it's English, math, history or science.
If you want jobs that will keep you active and out in the sunshine, this summer, the gig economy has you covered.  If you enjoy yoga, consider becoming an instructor and make an average of $25 an hour.  Freelance tour guides make less money, but it's an enjoyable job for those that enjoy travel and already have knowledge of a city or destination.  Dog walkers can make a handsome income if they walk multiple dogs at once, since the average hourly pay for one dog is about $13 an hour.  Or you can get really creative like struggling actor Chuck McCarthy, who makes $7 a mile walking people in Los Angeles.  With gig economy jobs, the sky is the limit.
Of course, keep in mind that freelance or contract jobs often don't offer benefits such as health insurance, paid time off or retirement options.  If you want to be part of the gig economy, make sure you bring in enough extra income to offset the cost of benefits you aren't receiving through your job.
Click below for freelance jobs in:
Jessica Cody, a native of Fairfield County, Connecticut, has a background in online marketing and public relations. Currently, she works at VHMNetwork LLC in the role of Marketing Analyst. She is a graduate of the University of Connecticut, where she studied Journalism and Political Science. She is also an avid runner with a passion for the outdoors.